Chemical and Corrosion Resistance
Technical assistance
Tel.  +33 (0) 3 66 74 00 89
CHEMICAL AND CORROSION RESISTANCE
DOMESTIC USE
Characterization of common domestic applications
Building wastewater drainage systems - grey and black water- must be able to withstand the types of domestic effluents specified by standard EN 877. In recent years, however, changes have been observed in the types of these fluids:
Higher concentration of household detergents,
Use of more aggressive hygiene products,
Rise in operating temperatures.
The constraints on sanitary drainage systems are constantly increasing.

To test chemical resistance of cast iron products, according to standard EN 877, the product samples are tested for 30 days at a temperature of 23 3°C with the following liquids (pH constantly monitored):
A solution of sulfuric acid with a pH of 2.
A solution of sodium hydroxide with a pH of 12.
A solution of wastewater with a pH of 7.
Resistance to hot water (24 h at a continuous 95°C) and thermal cycles (1,500 cycles of 5 min between 15°C and 93°C) are also tested according to standard EN 877.
*according to the manufacturer
To provide clearer guidance on the chemical resistance of the S range in domestic applications, PAM Building has carried out 20 further tests in addition to the requirements of standard EN 877 on commonly-used detergent products (floor cleaning products, laundry detergents, etc.) and special products (stain removers, drain cleaners, etc.). The additional tests also aimed to assess the S and Plus range limitations.
The tests were carried out on samples, under the temperature of use recommended by the manufacturers and, where relevant, up to 70°C since hot water is normally supplied in houses at around 50–60°C. After stopping the test, the pipes and fittings were washed immediately to eliminate any stains, and the coatings were examined for blistering and rusting according to ISO 4628-2 and 3. (Accepted levels according to EN 877).
The duration of the test is considered equivalent to the extrapolation of real chemical stress undergone for 7 or 10 years (10 to 15 min of stress per day). This test method, however, simulates severe stress since the samples lie in direct contact with the solution, the temperature is maintained and the test includes no rinsing for its duration.
Recommended range for these applications: S range
According to the principle of continuity with no weak points, coatings for fittings and accessories must withstand the same stresses as pipes. There is an anti-corrosion coating process for these parts to ensure they can withstand major stresses, due to the fluids transported or the environment.
CATAPHORESIS
Fittings and accessories are coated with an epoxy resin deposited by cataphoresis which ensures a uniform deposit and excellent covering of edges. The optimised process by PAM Building is based on careful shotblasting and entails incorporatinga chemical surface treatment during the coating cycle, between rinsing after shotblasting and the cataphoresis bath to enhance the coating's covering power.
At the end of the cycle, the parts are oven dried to complete the reticulation of the epoxy film.

Substantial improvements in:
The epoxy film's adhesion to the cast iron.
The corrosion resistance of the coated cast iron.
INTENSIVE USE : INTERNAL STRESSES DUE TO AGRESSIVE EFFLUENTS
Characterisation of intense or professional uses
Aggressive effluents are characterized by their content (acids, bases, solvents, hydrocarbons, etc.), their combinations and their temperature.
Above- and below-ground wastewater drainage for aggressive discharge are characterised by:
Hot water resistance: 24 h at a continuous 95°C and thermal cycles (1,500 cycles of 5 min between 15°C and 93°C).
Plus range external coating corrosion resistance test to neutral salt spray according to standard NF-EN ISO 9227_2017: 2500 hours.
Chemical resistance: 1 < pH < 13.
Recommended range for these applications : Plus range
The limitation between the S and Plus ranges is only determined by the type of fluids and the operating temperature. However, the duration of daily exposure also directly determines the appropriate range to select, hence why we called this chapter intensive or professional use. The combination of high pH products (base and alkaline products) and high temperatures systematically calls for the use of the Plus range.

With its anti-corrosion thick linings, the Plus range provides greater chemical resistance and is particularly well-suited to intensive uses:
To transport effluents containing acids, bases or saline solutions at common operating temperatures, systematic use of the Plus range equipped with couplings with EPDM gaskets is recommended.
For solvents, hot oil and where hydrocarbon traces may be present, the systematic use of the Plus range equipped with couplings with NBR gaskets is recommended.
INTENSIVE USE : EXTERNAL STRESSES DUE TO AGGRESSIVE GROUNDS
Characterisation of external stresses
Below-ground wastewater drainage systems exposed to environmental stresses.

The buried section of a pipe may be laid in non-homogeneous ground or corrosive soil. When protected by galvanic effect, the pipework can be installed without requiring systematic soil studies.
Recommended range for these applications : Plus range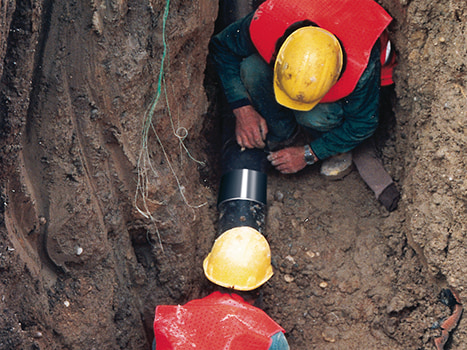 Buried systems are subjected to ground loadings which can cause shearing strain on couplings. For these applications, it is therefore recommended to use wider couplings, and to use the "all stainless steel version" of the steel couplings to avoid corrosion due to the aggressiveness of the ground.
INTENSIVE USE : EXTERNAL STRESSES DUE TO CLIMATE EXPOSURES
Outdoor or facade exposures
Depending on the climatic conditions, while in operation outdoor wastewater and rainwater systems can be subjected to ultraviolet radiation, saline mist, condensation, freezing-thawing cycles and pollution.

The drainage systems must be fit for purpose despite exposure to adverse conditions.

Zinc coating improves the pipes' ability to withstand climatic stresses and extends their service life.

Recommended range for these applications: Zn range
ZINC COATING
The zinc metal coating is an active protection provided by the galvanic action of a zinc-iron cell.
This action is two-fold:
Formation of a stable protective layer of insoluble zinc salts
Self-repairing of any damage.
Zinc metalisation is an excellent corrosion inhibitor and is extremely effective at extending the lifespan of products subject to backfills or climatic stresses.